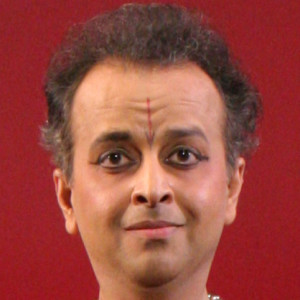 Prasanna Kasthuri
When Shree Raghusutha, Guru Prasanna's father put him under Guru Mukund Kaanekar for learning dance in 1975, he had a great memory of his visit to Calcutta(Kolkata) in 1950's. Then Raghusutha was in search of learning dance for himself, from the legendary dancer Uday Shankar (brother of Ravi Shankar). Raghusutha went to Kolkatta and learnt for a while and came back soon because of family calls. This unfinished dream of father was achieved through his children. All three children – Prasanna, Pulikeshi and Sushma are now well known dancers in the field of Bharathanatyam. Guru Prasanna, eldest of the three, is an established performer and a teacher of two classical dance forms – Bharathanatyam and Kathak and he has promoted the Indian art form in and out of India very successfully.
Prasanna Kasthuri established Shantala Arts Academy, in 1985. He presented several important performances such as 24 hours nonstop Marathon Dancing in 1986; Kaavya Kinkini (1988), a total Kannada language based repertoire in Bharathanatyam; Subhadra parinaya (1991) – a Sanskrit Dance Drama; Shringara Nayakaru (1994). He was invited to perform and coach Sanskrit dance drama in Paris in 1991 for Soliel d'or, a France based dance company. Prasanna moved to USA for higher studies and artistic exploration to USA in 1994.
Prasanna worked as a volunteer dance professor Arathi School of Indian Dances from 1994-96 in San Antonio, TX. Prasanna established Soorya Performing Arts in 2002 in St. Louis, MO to promote Indian classical dance, music and theater to a greater Midwest audience of United States of America. He headed many great projects co-sponsored by the prestigious Regional Arts Council of St. Louis and Missouri Arts Council. He created some unique productions such as – "Gokula Nirgamana" – a first Indian Opera ever performed outside India. In this production, dancers sang and danced simultaneously, which is a rare achievement in the field of Bharathanatyam. He collaborated with Pandit Vishwamohan Bhat to compose his innovative – "Rainbow-II" – a dance production based on famous English and American Poems. He was invited to International Tap festivals held in Oklahoma and St. Louis and performed in Asian Festivals in Columbus, Ohio.
Prasanna was invited to present "Anubhava Mantapa" – a production based on Sharana literature in North American Veerashaiva Sammelana and in North American Indian Classical Dance Festival which was held in University of Texas in San Antonio by Arathi School. His recent innovation of Geya Nrithya attracted many patrons in Natya festival in Baltimore, MD. He adopted Kuvempu's Beral Ge Koral into dance format, which was performed in more than 30 cities across USA/INDIA. He was invited to teach Indian Classical dances in Webster University, St. Louis and in Stephens College, Columbia.
Apart from a devoted performer, Prasanna Kasthuri is also interested in organizing many events. Under his leadership, St. Louis witnessed the very first Indian Drama Festival – "Nataka 2007" and the very first Indian Classical Dance Festival – "St. Louis Indian Dance Festival" in 2008. His past achievements such as 24-hour non-stop performance (1986), a rank in Vidwat (1985), and a Master's Degree in Information technology always shine high in his resume. Apart from these he has trained thousands of students in India, Europe and in USA. More than 15 students performed arangetrams under his tutelage.
Prasanna owes his learning to the blessings of his Gurus Smt. Maya Rao (Kathak), Smt. Lalitha Srinivasan, Smt. Narmada (Bharathanatyam). He prostrates to the legendary gurus such as Birju Maharaj, Mahalingam Pillai, Adyar Lakshmanan, Chitra Visweswaran, Pandanallur Gopalakrishna for giving him an opportunity to learn in their workshops. Prasanna is also a good singer, music composer and habitual percussionist